JUCOLOR BP360C bottle Printer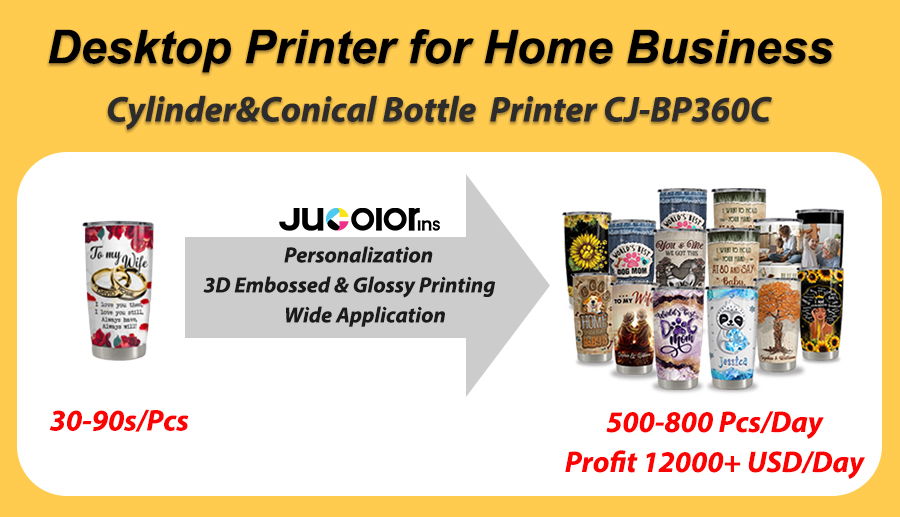 A Profitable Professional Bottle Printer The printing speed is also related to the size of the pattern. Normally, it takes 30-90 seconds per bottle. Jucolor cylinder printing machine can print 500-800 bottles for 8 hours a day. It is fully automatic and can be completed by one person. User-friendly, labor-saving, high-efficiency personalized custom printing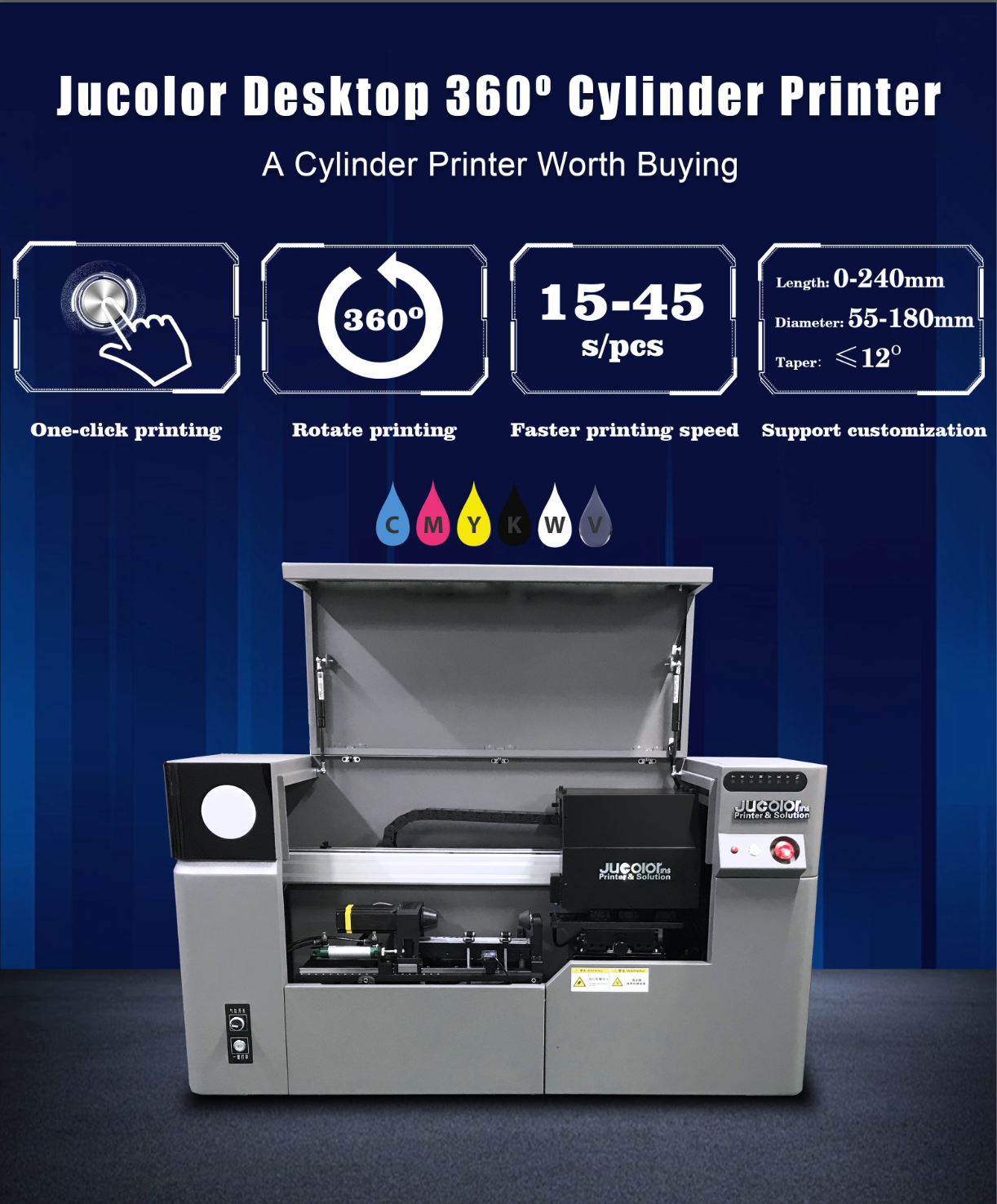 Jucolor CJ-BP360C desktop cylinder printer
Jucolor CJ-BP360C desktop cylinder printer for home business use, Wide range of applications, 500-800 PCS bottles printing per day, high-efficiency personalized custom printing Jucolor CJ-BP360C digital UV cylinder printer is designed to print full-color(White+CMYK + varnish color inks) images directly on straight-walled and tapered cylinders medias. Faster and flexible, this uv bottle printing machine can use for drinkware, barware, packing, and industrial printing industries. Adopt the Epson I1600-U1 print heads, 3.0 pl ink drop volume, achieve high-definition print output. Support White+CMYK+Varnish inks print one pass,3D relief printing, varnish glossy/matte effect printing.
Why Jucolor Cylinder Printer
* Fast printing speed & high production efficiency: it only takes 30-90 seconds to print a bottle, 5-8 times the printing speed of traditional uv flatbed printers, industrial design, high output * White +color+varnish color inks printed one pass * 3D relief effect printing: CJ-BP360C printer supports 3D relief printing. * Varnish effect printing: CJ-BP360C printer supports varnish glossy/matte effect printing, traditional printing does not do this * No need to plate making, one piece can be printed * Almost any color picture can be printed on any color drum * Support Erlenmeyer flask printing * Support 360-degree seamless full-coverage printing Simple operation, user friendly and low maintenance * Large diameter, large slope, long size cylinder can be printed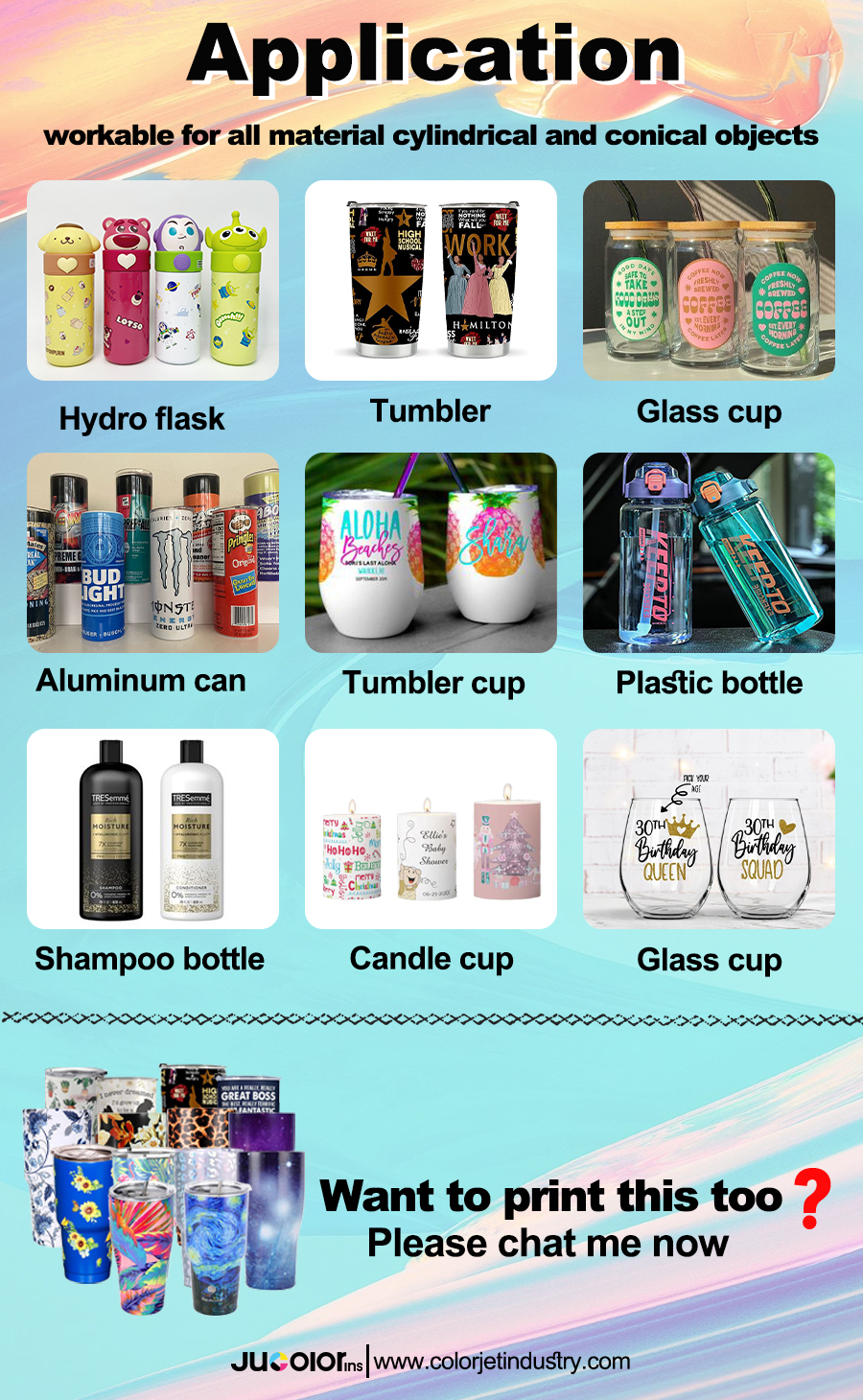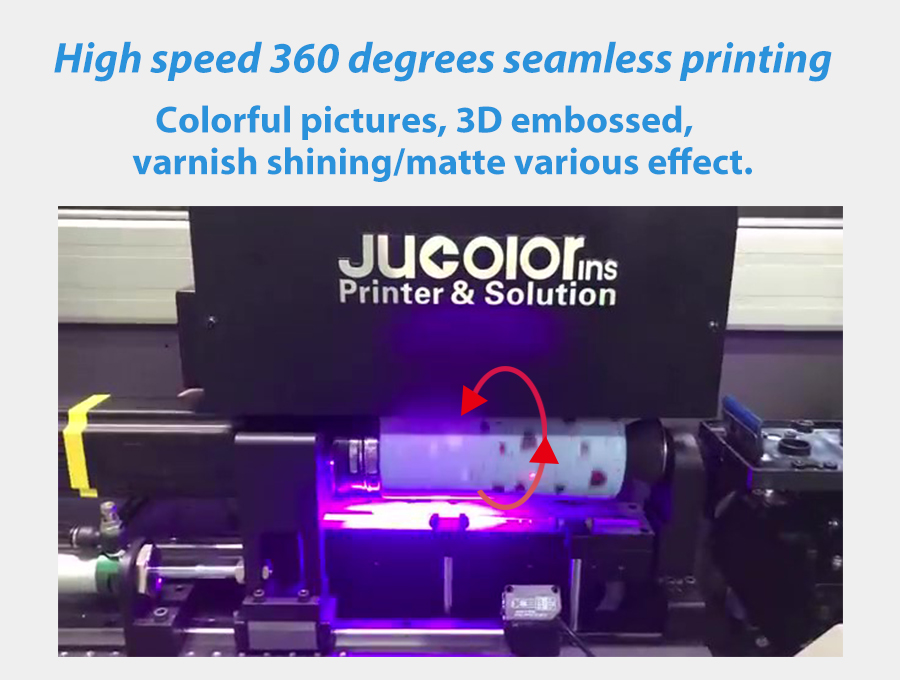 High speed 360 degrees seamless printing
colorful pictures,3d embossed varnish shining matte various effect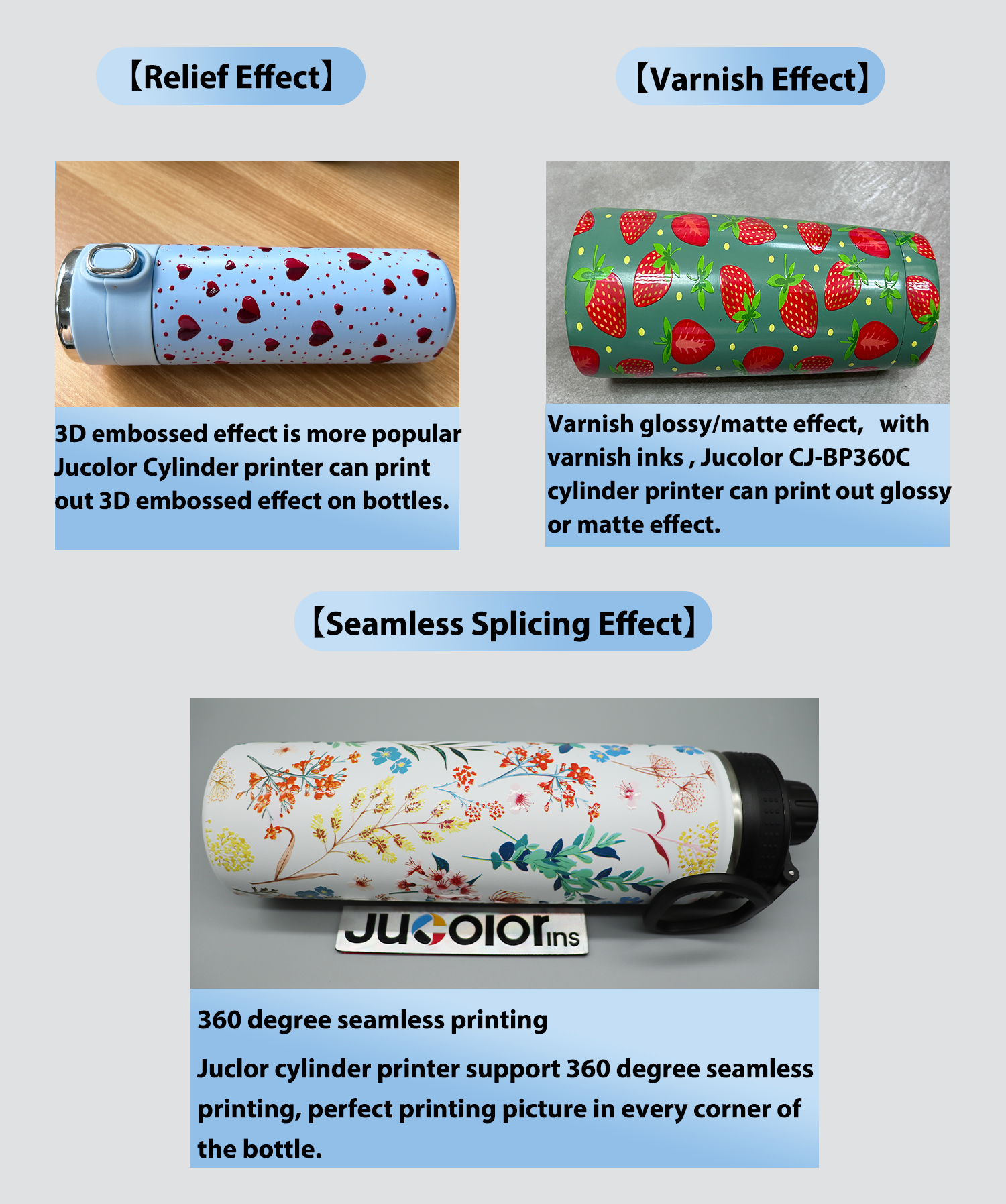 Full-frame 360-degree seamless printing, varnish embossing effect, higher commercial value
Compared with uv flatbed printers, professional cylinder bottle printer can realize varnish printing and obtain high-value printed matter with varnish/matte embossing effects. Jucolor tumbler printers are equipped with industrial printing heads, with bright colors, vivid pictures print-out, fast printing speed,Meet a large number of personalized printing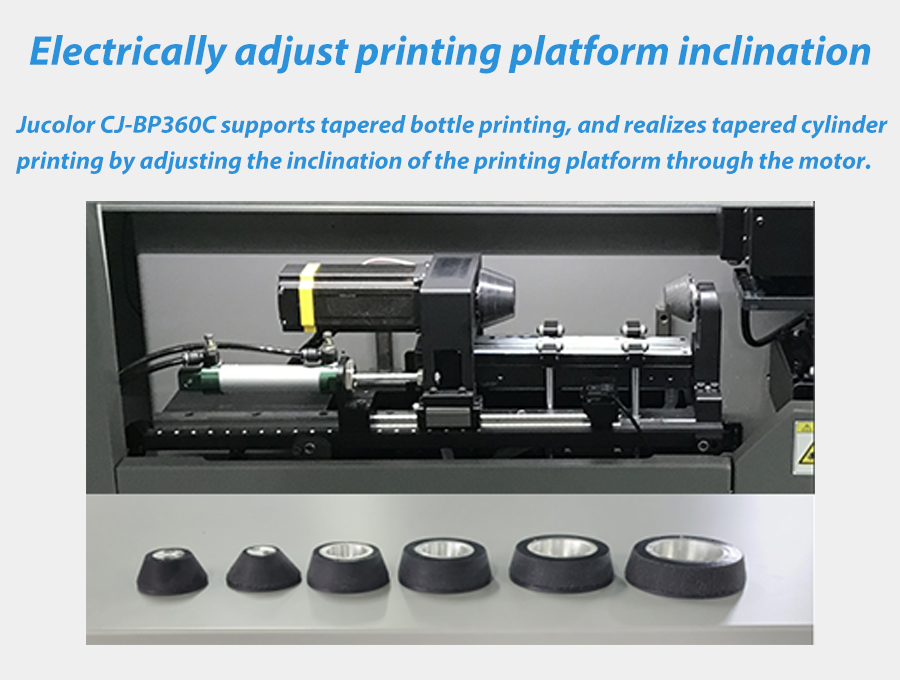 Electrically adjust printing platform inclination
Jucolor CJ-BP360C supports tapered bottle printing, and realizes tapered cylinderprinting by adjusting the inclination of the printing platform through the motor.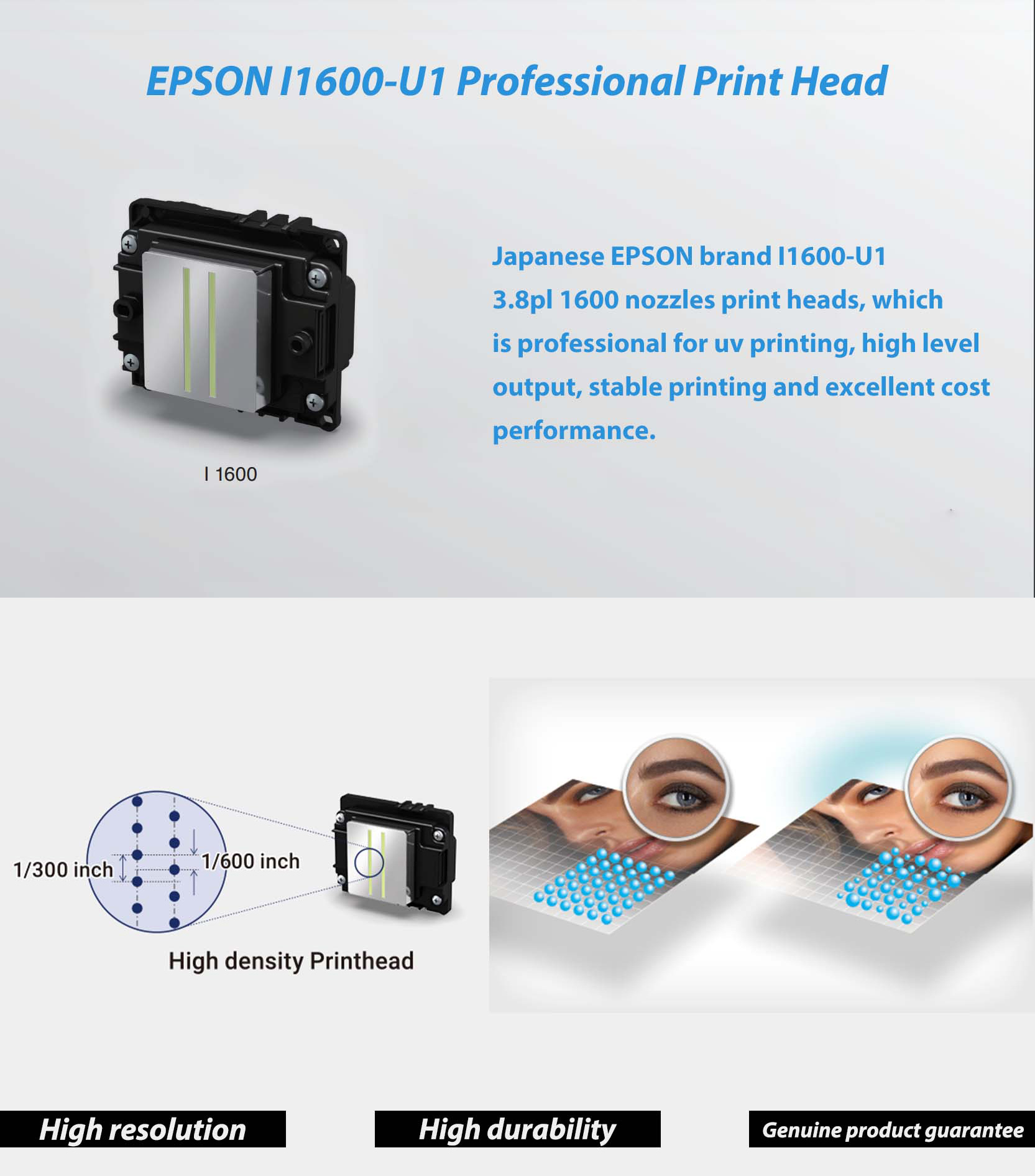 EPSON 11600-U1 Professional Print Head
Japanese EPSON brand 11600-U1 3.8pI 1600 nozzles print heads, whichis professional for uv printing, high leveloutput, stable printing and excellent costperformance.

| | |
| --- | --- |
| Print Model | CJ-BP360C |
| Print head | 2-3 pcs EPSON I1600-U1 Print Heads |
| Ink type & colors | CMYK+White+Varnish color uv led ink |
| Print size | Length:0-240mm , Diameter:55-180mm, Taper: ≤ 12° |
| Printing speed | 40-120 PCS/Hour(According to printing size) |
| Print resolution | 720*900 DPI, 720*1200 DPI |
| Bottle type | Straight-through bottle, cone-shaped bottle, cosmetic packaging bottle, wine bottle, car thermos, etc |
| Languages | English/Chinese |
| Ink supply | 1000 ml/bottle |
| Environmental requirements | Temperature: 15°C-33°C, relative humidity 30%-70% |
| Power | 110 V/ 220 V |
| Operating system | Windows 7/10/11 |
| Machine size | 1320*480*750mm, 134 kg |
| Packing size | 1450*600*900mm 250kg |
| Delivery | 7 work days after the full payment |
| Payment Terms | T/T; bank transfer, Western union |