UV Printer 6090 A1 UV Flatbed Printer Led UV Machine G5i High Drop Inkjet Printing on All Material
Jucolor Pioneer 90*120cm/3*4' double 6090 uv flatbed printer has a professional and stable printing system, combined with industrial-grade RicohG5i printing heads, which can realize personalized custom printing of various materials such as flat, curved, hard, and soft.

High drop inkjet printing on uneven phone case uv printer, 10 colors CMYK, Lc, Lm, Grey, Light Grey, white, varnish one pass photo level high quality printing ,3D embossed glossy colorful uv printing machine from Jucolor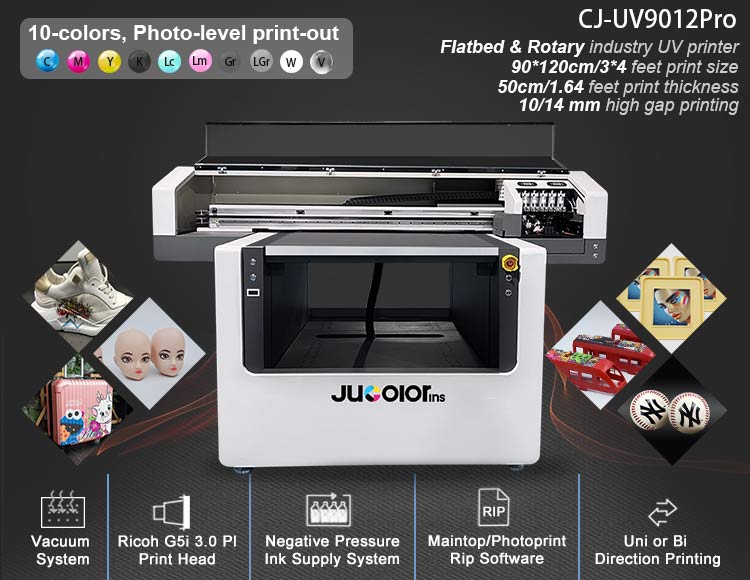 9012 Photo level UV Printer
10 mm max high droplet printing function make this industry uv printer be able to print on uneven and irregular materials50 cm max print thickness,Printing size of 90*120cm,widely the uv printing application,suitcase uv machine,wood box led uv printer, football printer, metal beer barrel printer.
It has a large printing area without making it bulky, so this is a very personalized printer that can be applied to any scene. Whether at home, in a shopping mall, or in a studio, it can be used very conveniently.
Application Value of Jucolor Pioneer
9012 Double 6090 UV Flatbed Printer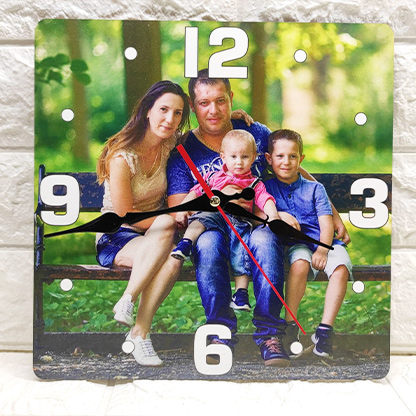 Plyood/Wood/PVC/KT Board
Photo panel/Large billboard/Home improvement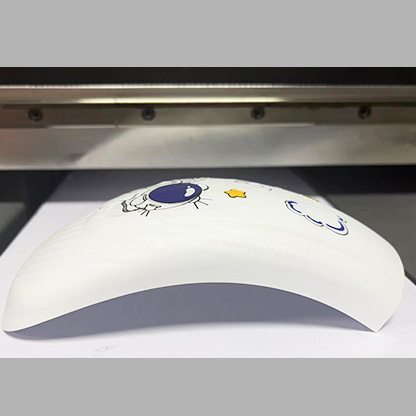 High inkjet printing on curved surface items
It's no problem printing with 3d embossed on curved media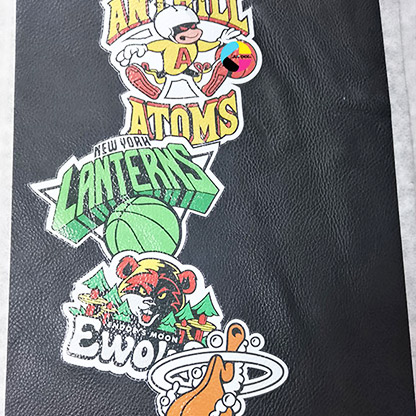 Leather/Paper/Coaster/Mouse Pad
Ricoh G5i neutral ink suitable soft and hard materials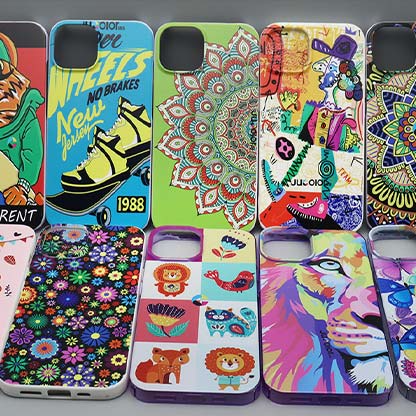 Phone Covers
Can print for kinds of shape & material cases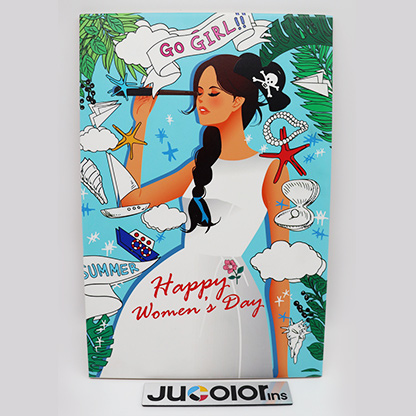 Ceramic tile/Stone
Home improvement/Art crafts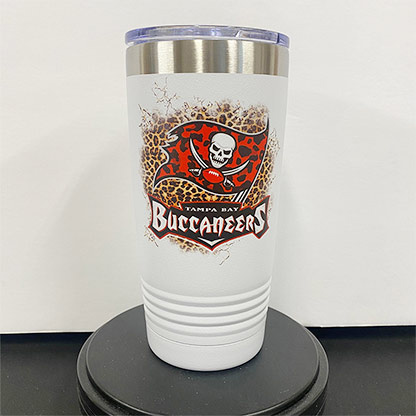 Tumbler/Bottle/Cup/Cosmetic/Tube
Glass/Plastic/Metal Cylinder Rotary UV Printing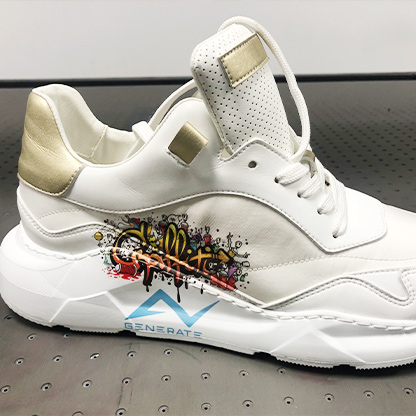 Shoes/Dolls/Crafts
10 mm high drop inkjet UV printing
Passed washing resistance test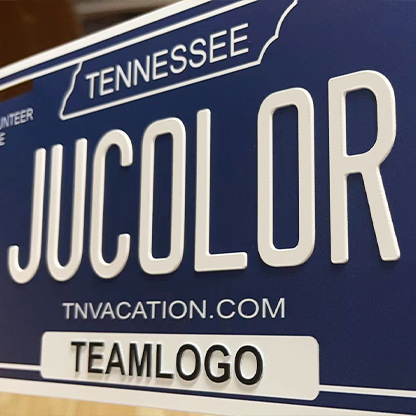 3D Embossed Effect
Strong embossment and obvious touch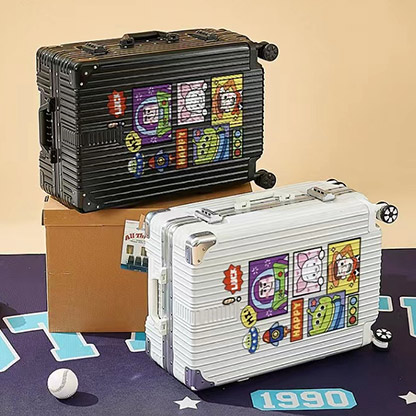 Suitcase/Case/Beer Barrel
High thickness wood metal box/case
There are more amazing samples not shown, contact us for free printing samples

We (Gold Label Manufacturer)provide life-long after-sales service
Various models of printers with different configurations, contact us for commercial printing solutions
Best Industrial-level Model with Excellent Printing
Why Jucolor Pioneer 9012 6090 UV Printing Machine?
◉ Industrial-grade Ricoh print head, stable and less maintenance
◉ Unique 10-color printing, 100% realistic effect, biz effect with high quality and high commercial value
◉ Up to 50cm printing height , the items that can be printed are wider, and your market is more impressive
◉ Large-format 90*120 cm double 6090 printing size, high-efficiency printing helps your products quickly respond to market needs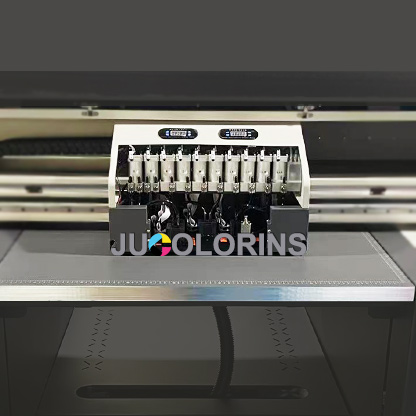 Key Features
- Media thickness up to 50 cm - automatically height detecting function
- Vacuum suction platform-with size mark conveniently position
- Negative pressure system for stable ink supply and automatic cleaning
- Anti-collision device equipped in both sides, protect print head and user safety
- White ink stirring device to avoid white ink precipitation and keep high quality ink supply
- Professional SAI Flexiprint RIP software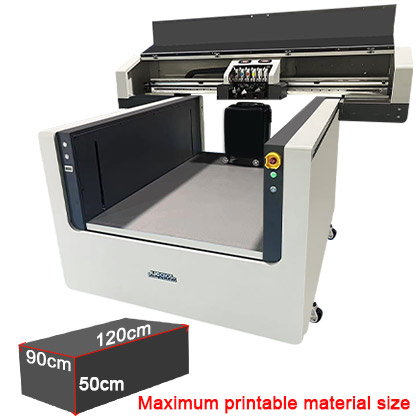 90*120 cm/3*4' print size, 50 cm/1.66' max print height
- Double A1 print size, high productivity, 1 set printer equals to 2 sets 6090 printers.
- Print directly onto media up to 50 cm thick
Its printing size is the largest among entry-level UV printers, but its size is not very large. Among entry-level UV printers, it can still be flexibly moved. With a size like this, it is not only suitable for commercial use, but also completely Suitable for home use.
Moreover, its printing size is large and can be suitable for printing a wide range of items.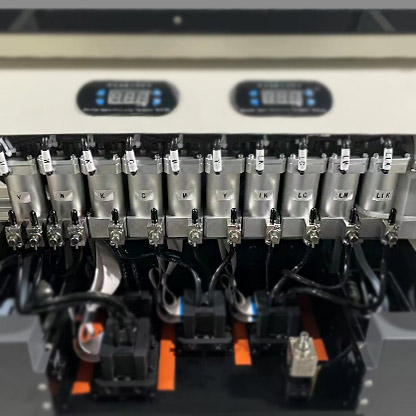 Negative pressure system
- Two advanced separate negative pressure systems. Simply and effectively. ensure the continuous ink flow, and easy maintenance for multi-heads equipment.
- Effectively protect print head from being clogged and extend lifespan of print head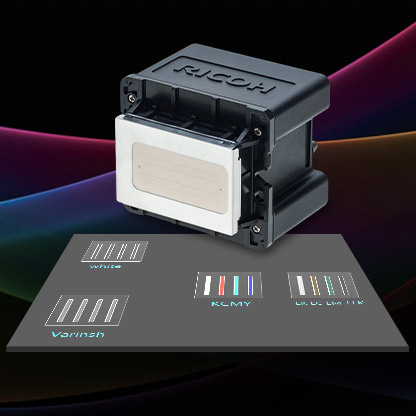 Industrial Ricoh G5i print head,long lifespan, less maintenance.
- Variable droplet technology minimizes graininess, min 3.0 pl ink droplet, high print quality.
- 10 colors unique technology, maximize image quality, 4 heads for CMYK, Lc, Lm, Gr, LGr+W+V printing one pass.
- 3D embossed effect and varnish glossy effect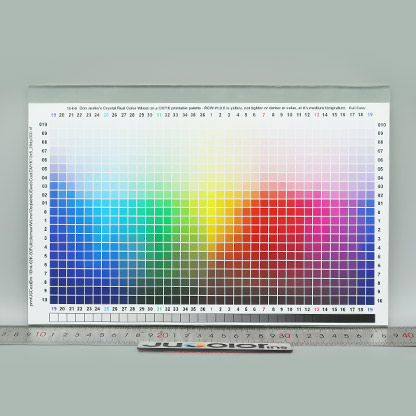 10 colors maximize image quality
- CMYK, Lc, Lm, Gr, LGr, White, Varnish 10 colors special uv inks, rich and bright effect
- low graininess and smooth gradation
- Flexible, reliable solution perfect for printing canvas painting, outstanding-quality outdoor signage, promotional goods and more.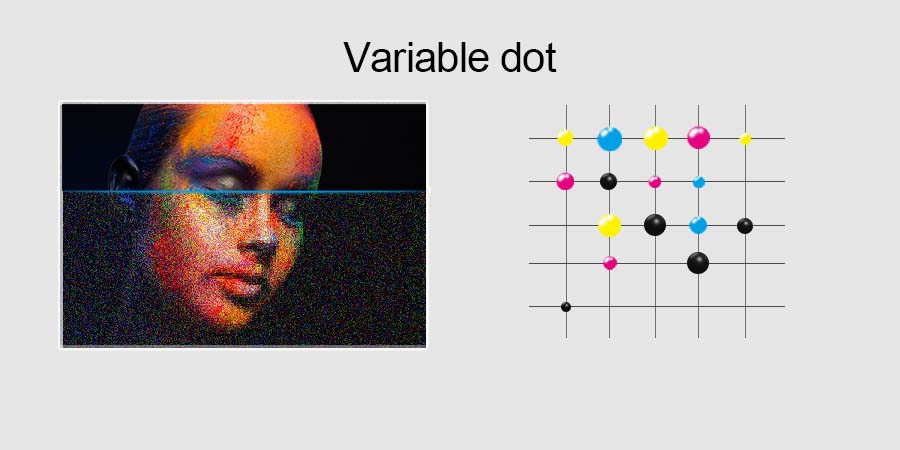 Variable droplet technology
The imported ricoh print head we use has very powerful variable droplet technology.
When the printer is working, it can intelligently change the size of the ink droplets, which also means precise control of image color, not only efficiently producing printing effects, but also saving ink usage.
Printer Model

CJ-UV9012Pro

Print Head

2-4  pcs industry Ricoh 5i heads

Max Print Size

90*120cm/ 4 * 3 feet

Accepted Material's Height

50 cm/ 19.6 inch

Printing Direction

Smart Bi-directional Printing

Print Resolution

900dpi 1200dpi  1800dpi 2400dpi

Special Remarks

Customized is available

High Gap Printing Distance

10/14 mm able to print on uneven and irregular materials

Weight of Material

Panel:≤ 50 kg/m2

Ink Colors

10-color, White+CMYK,LC,LM,Grey, LGrey,+Varnish
Machine Standard Configuration
The Advantages

90*120cm/3*4 feed print size

Double 6090 UV printer,Effectively improve printing efficiency

50 cm max print thickness

Highly meet bigger and higher medias printing needs

Vacuum air suction platform with mark

Anti-corrosion, anti-oxidation, easy to clean,locate the printing position quickly

Negative pressure ink supply systems

Ensure the continuous ink flow, Effectively protect print head from blocked, easy maintenance

High-strength steel fuselage structure

High strength , no deformation, Ensure high-quality printouts and extend the life of your printer

Y axis double screw rod guide

Stable and precise movement, high precision printing

Auto medias height checking system

Helpful for customer setting proper print height in quickly

Ink heating system

Maintain the fluency of ink, the printer can also work normally in winter

Anti-collision system

Protects the printhead from touching or impacting the media

RIP Software

USA Sai brand Flexi print

Drop Volume Size

3.0 picolitre

Software

Photoshop, CorelDraw, Illustrator,

Languages

English

Interface

DPCS

Operating system

Windows XP/ME/Vista/Win7/Win10

Ink Supply

1000 ml/bottle

Ink Consumption

15 ML/SQM.

Driving Power

110 V/ 220 V.

Power Consumption

2500 W/ Hour.

Machine Size

210*160*130cm,500 kg

Packing Size

232x176x148cm 650 KG

Packing

Plywood packing

Delivery

1-3 days

Applicable Industry

mugs, bottles. balls, Phone case, pen, banner, PVC board, ceramic tile, glass, plastic, leather, rubber, candles, metal, wood, porcelain, ABS, acrylic, aluminum, marble, granite, paperboard etc
All Lifetime Service
About Jucolor After-sales Service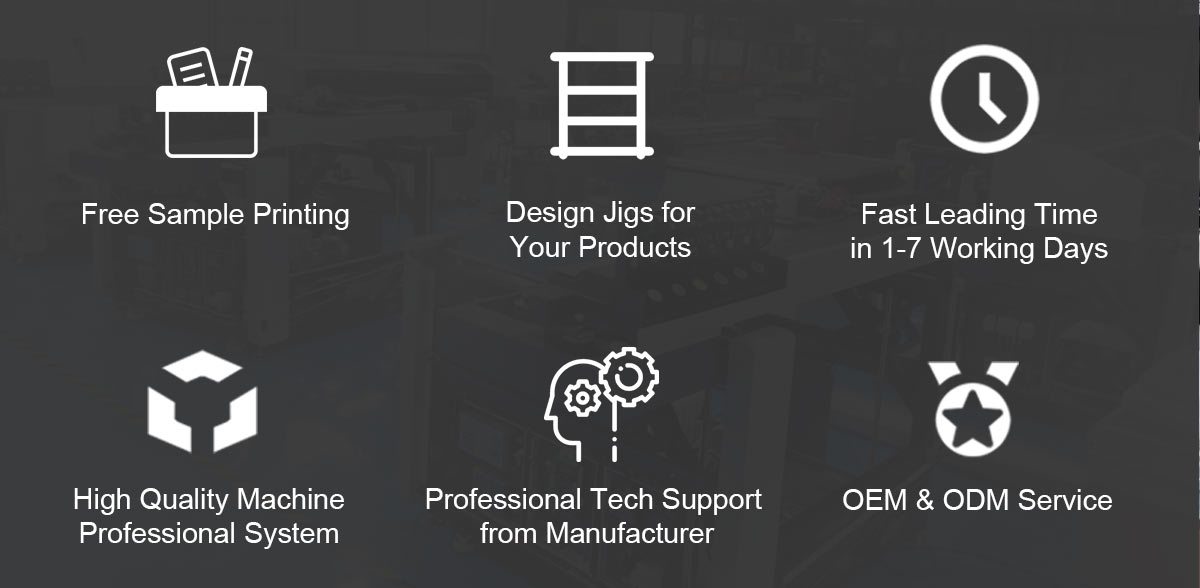 The printer has 1 year warranty, during this period, any parts are damaged, we will repair and replace new for you, except print head, all shipping cost of after-sale is our responsibility
We established a professional engineers team, we will give you lifetime service. When you get the printer, our engineers team will set up a group to provide you with one on one technical support, guide you how to operate the printer step by step till you use well
Jucolor adopts latest technology, strict quality control for every parts before printer shipment, hope you can get a good cooperation experience with us.
Strong after-sales support
We have a mature after-sales team, and when you encounter any problems, our team will promptly help you solve them. Our after-sales team has received high praise from many customers.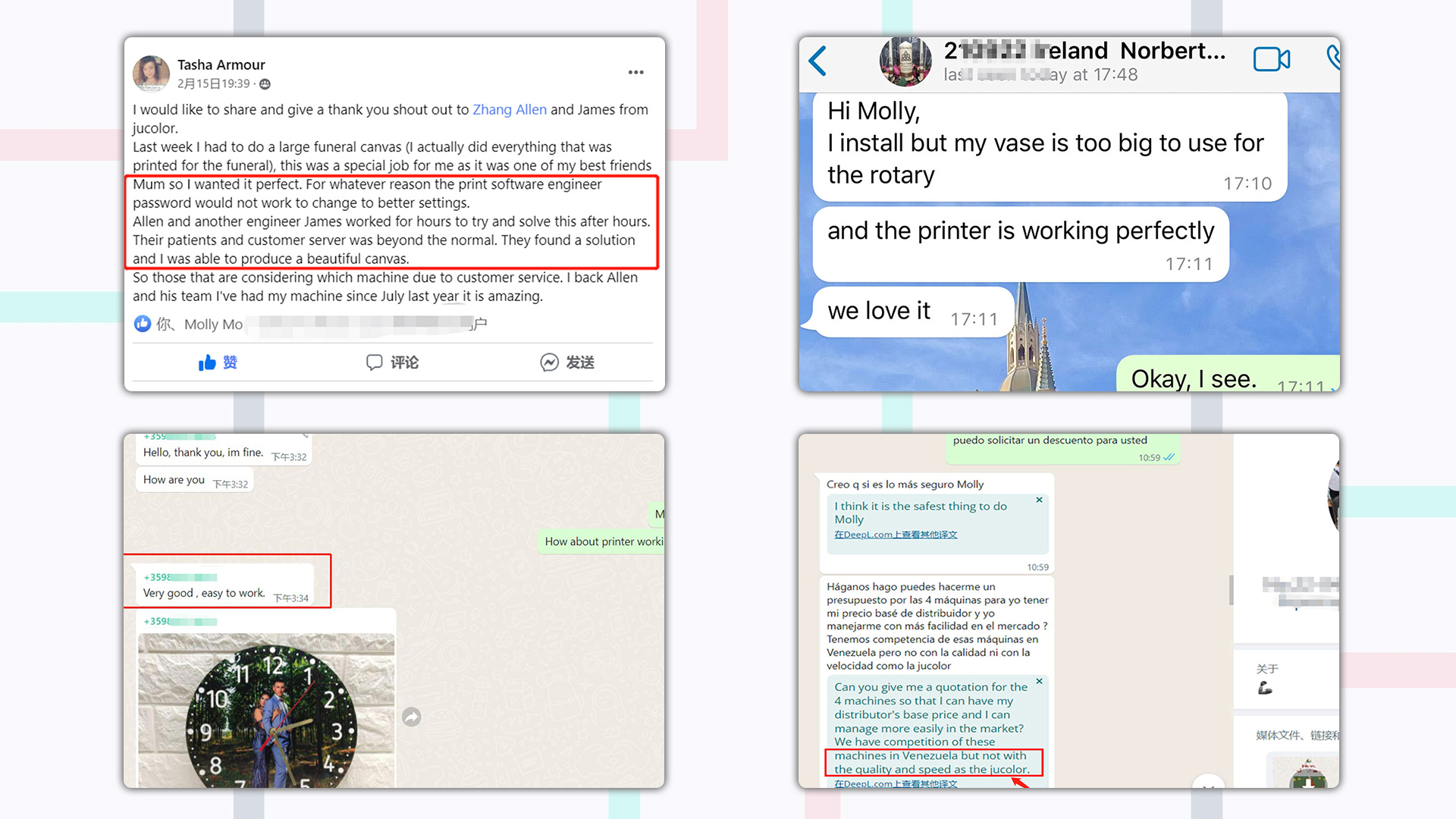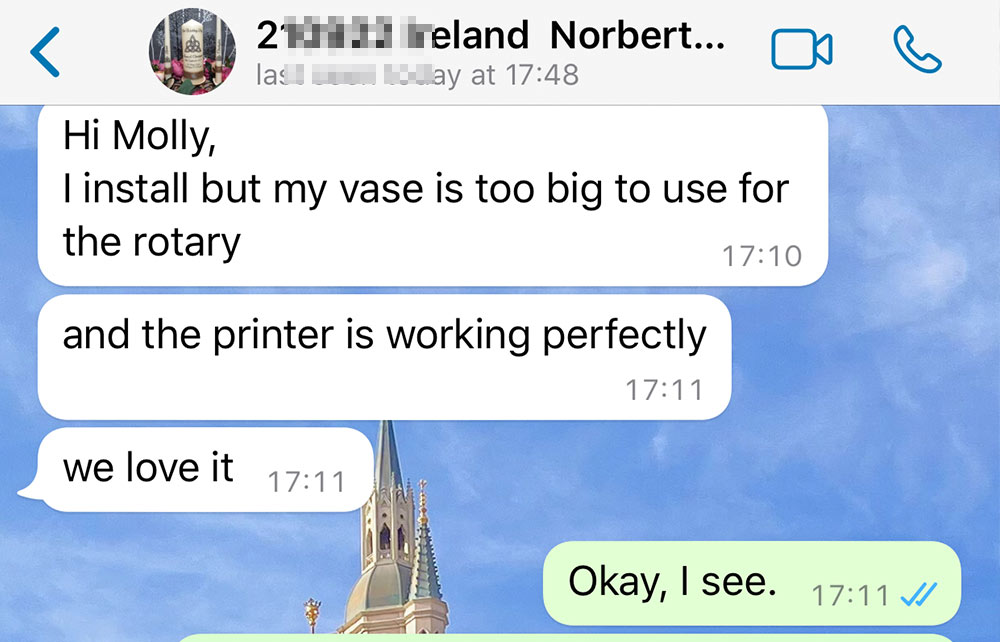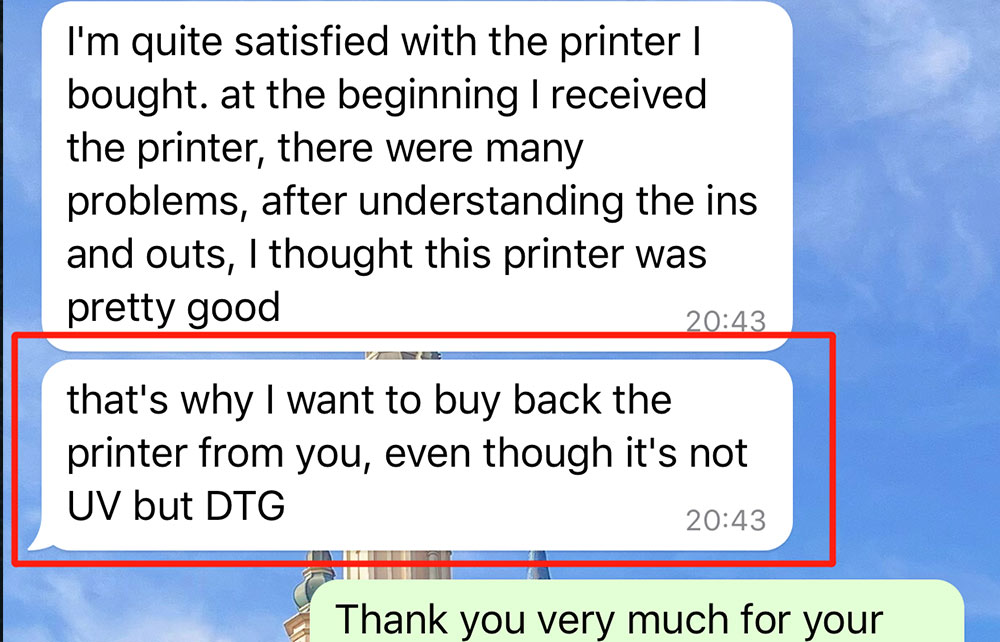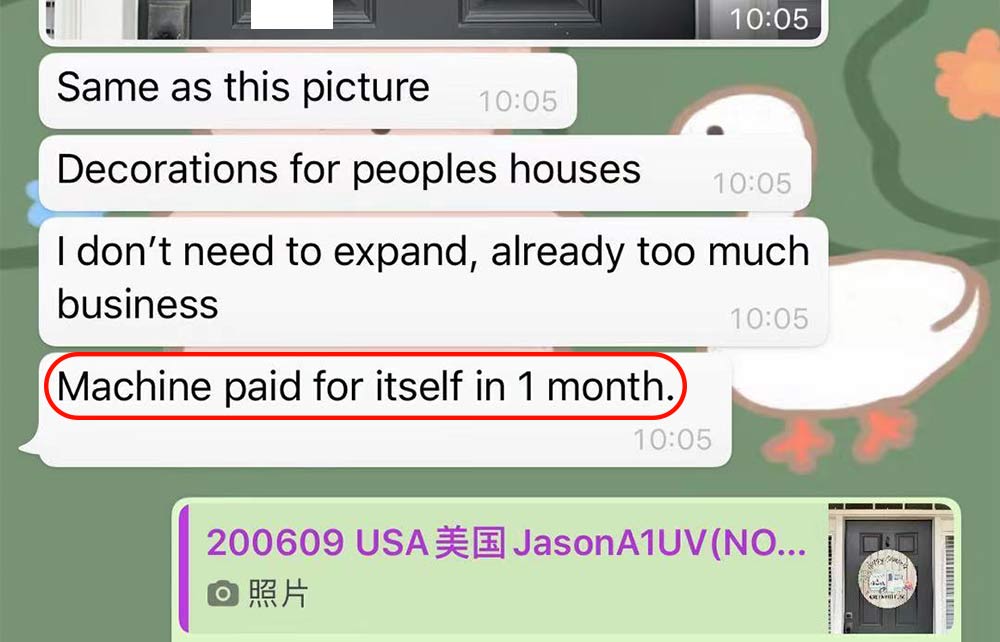 The main printing cost of uv printer is ink cost, 1 liter ink can print 50-65 sqm.
For example, printing an A3 size picture with CMYK+W+V 3 layers, the ink cost is about $0.36, and the A3 size painting for sale online up to $35, the wholesale pricing for as little as $3.
The CJ-UV9012pro uv printer can print about 18 pcs per hour, please think about how profit you can get every hour?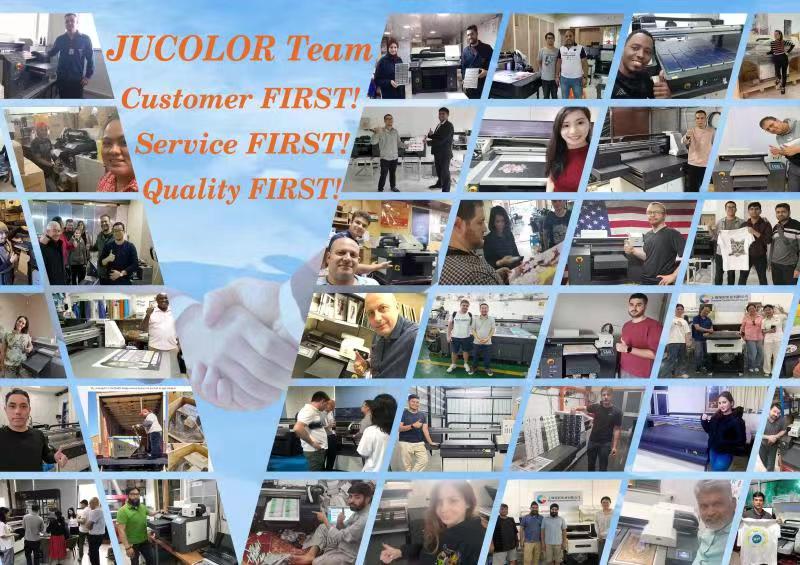 Unsere Kunden sind auf der ganzen Welt. In der UV-Druckerbranche ist JUCOLOR sehr professionell und führend. Wir verlassen uns auf unser solides Fundament und unser starkes After-Sales-Team, um in den Herzen vieler Kunden sehr gute Ergebnisse zu erzielen.
Our products are sold in more than 60 countries on five continents around the world. If you have any needs or doubts, we can give you corresponding praise. You are completely free from worries and can purchase our products at any time.
Choose Jucolor Pioneer 9012 6090 UV Printer
Starting Your Business with High Quality Machine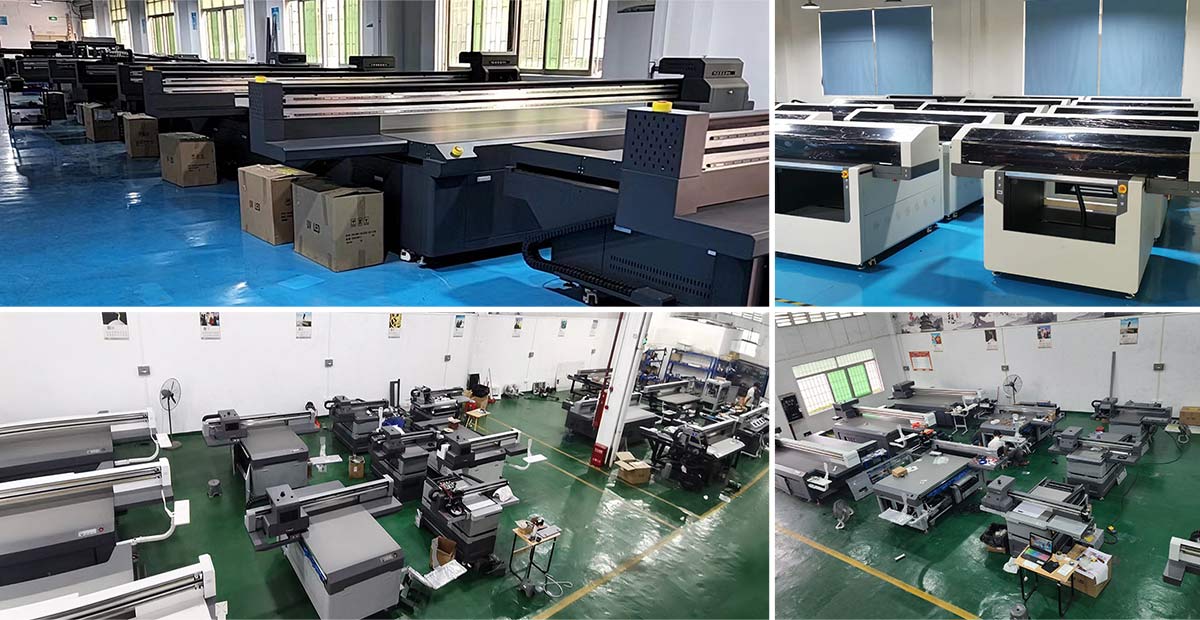 We have a certain amount of inventory and can complete the shipment within 1-3 days.
We use good packaging for our products, which allows them to safely reach customers during transportation.

If you want to know more about 9012, please go to our new website.