Newest Large 2513 UV Flatbed Printer Digital Printing on Advertising Sign Wooden UV Printer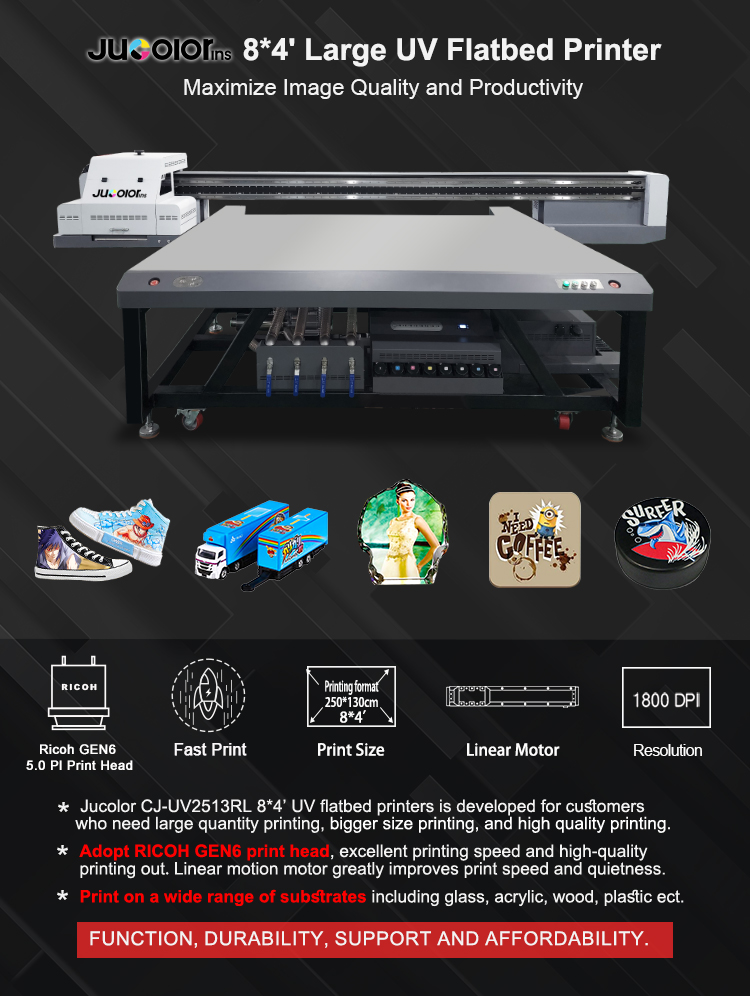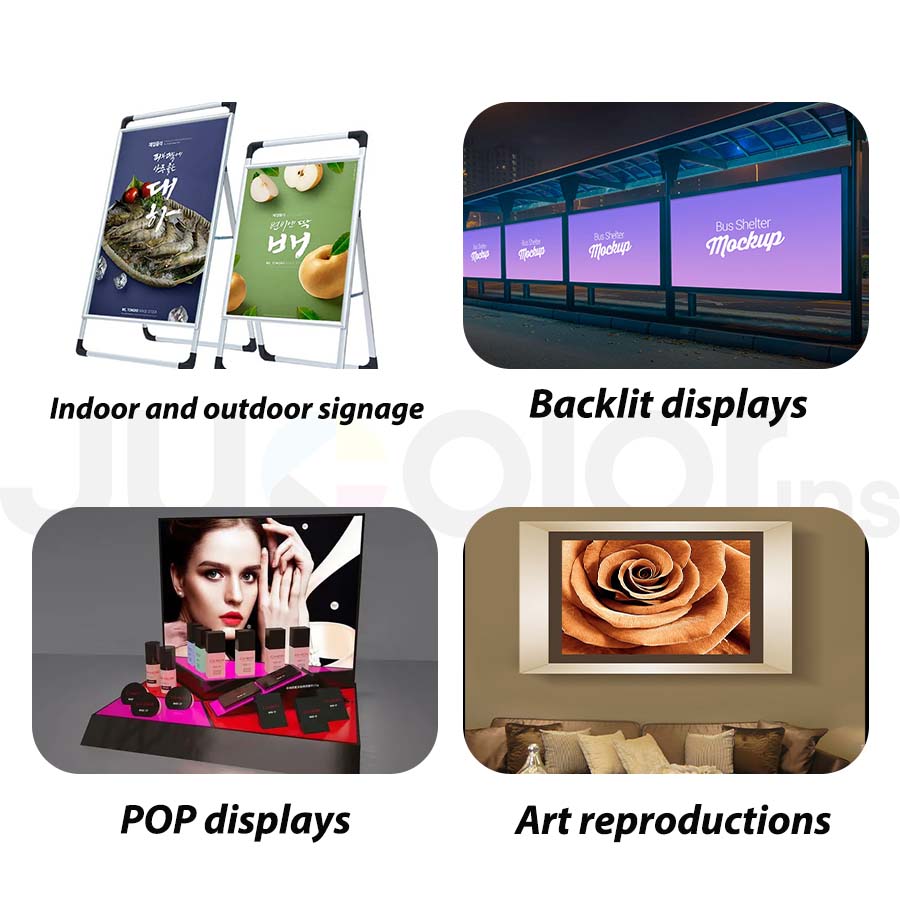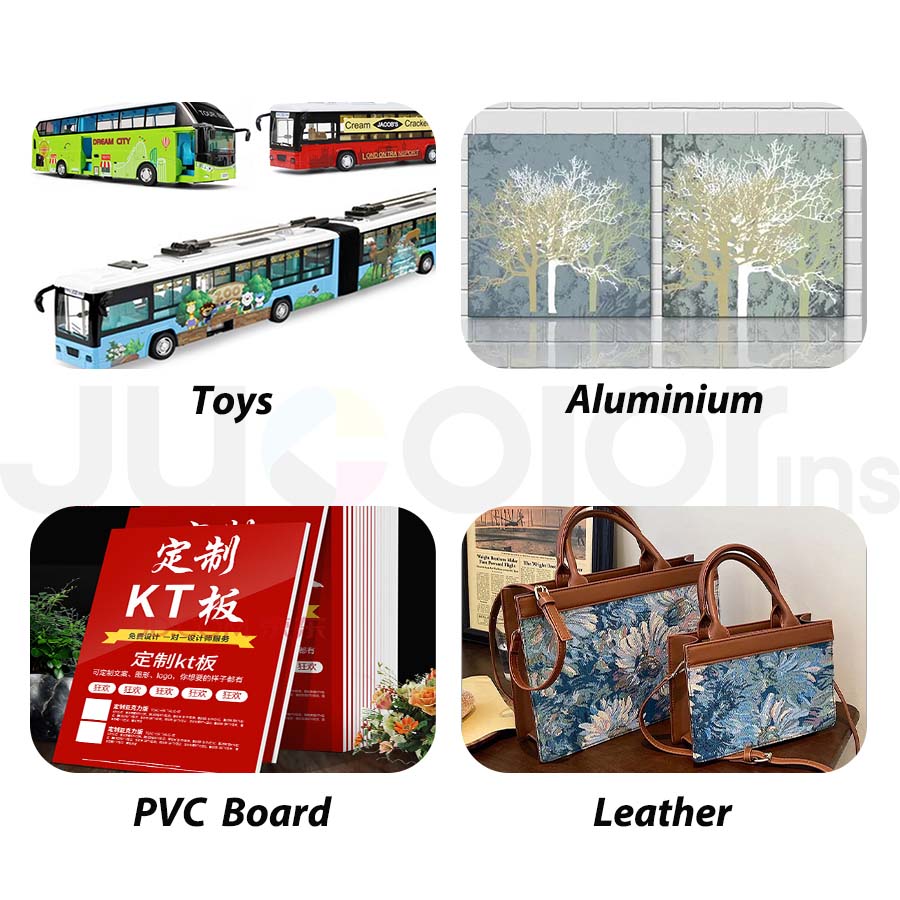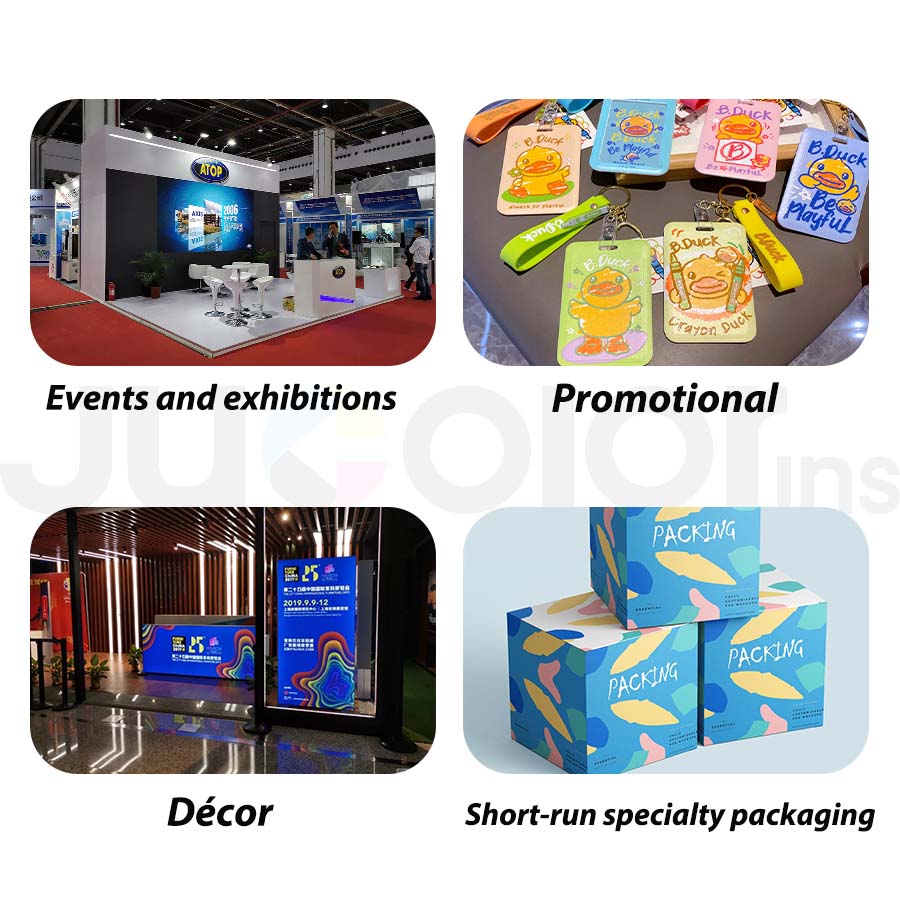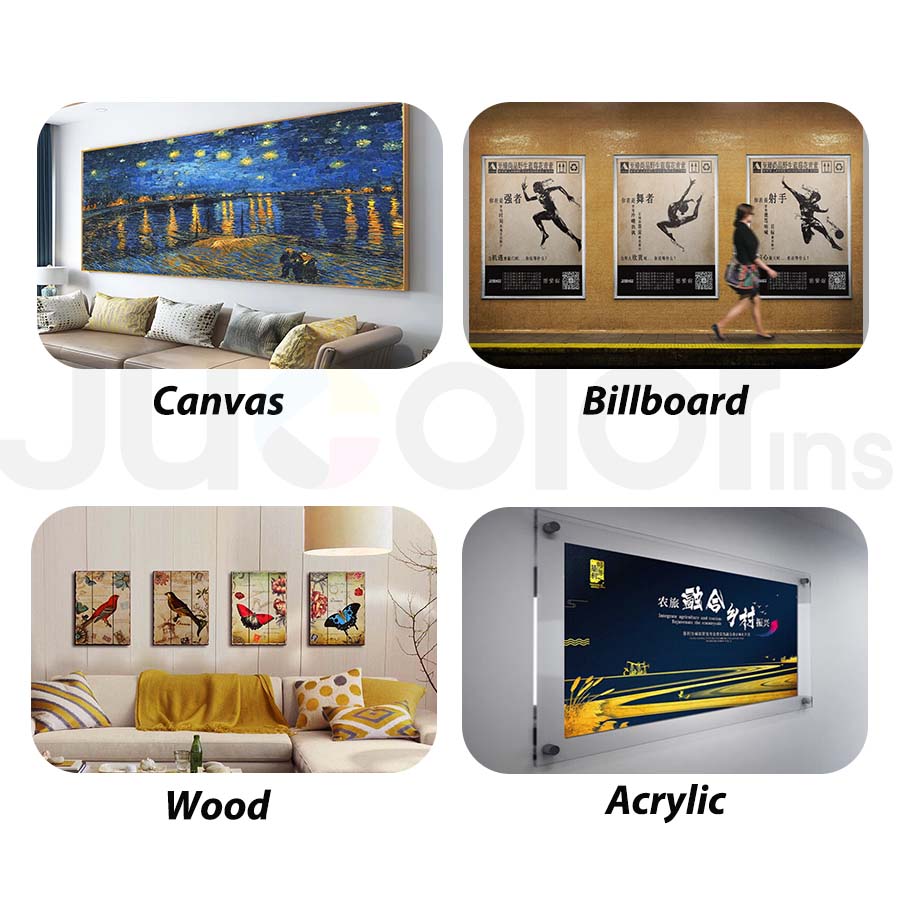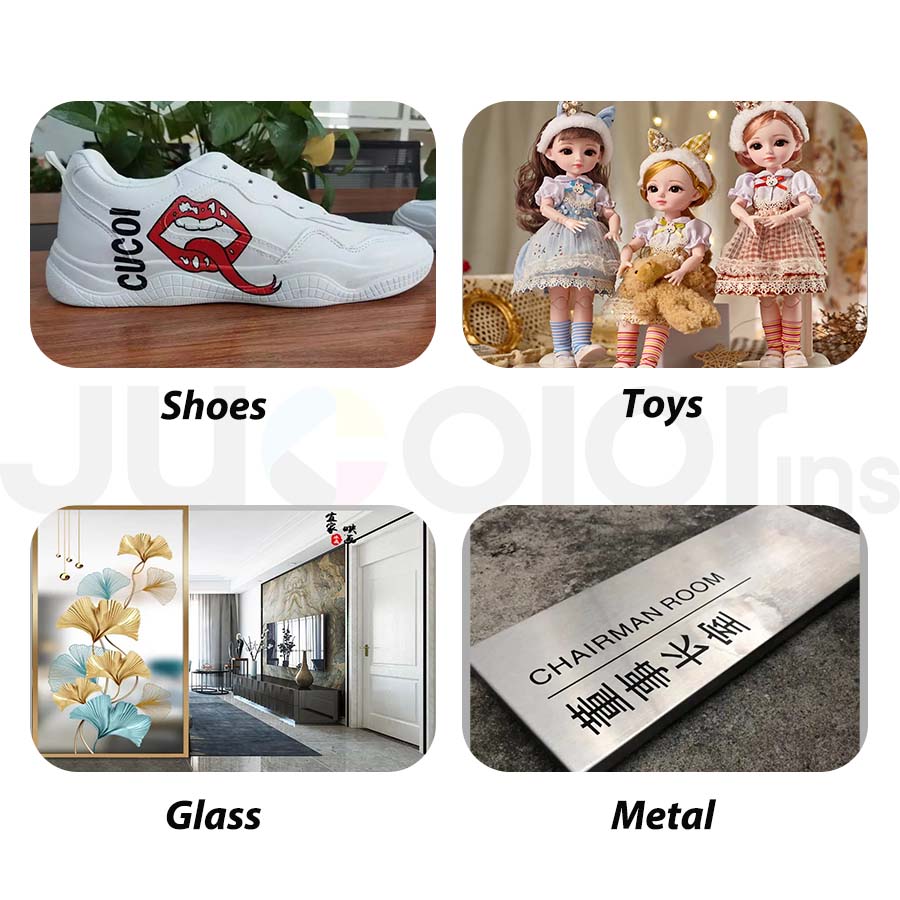 Jucolor CJ-UV2513G6L 8*4 ' large format uv flatbed printer

Model

CJ-UV2513G6L

Ink type

Uv led curing ink

Print head

RICOH GEN6 Industry print heads

Ink color

CMYK, LC,LM,White, Varnish

Print size

245*130cm/8*4'

Print height

15cm/5.9''

Numbers of print heads

4/5/8

Cartridge Capacity

1000 ML each color, lack of ink alarm,White Ink Stirring

Printing medias

Glass, Acrylic, Wood, , Metal sheet, PVC,Plastic,Ceramic,Paper Leather, PP, PE, PTFE… etc

Printing speed

Ink color

CMYK/LC,LM+W+V

2*CMYK+2*W+2*V

Draft

47.7㎡/h

71.5㎡/h

Production

25.5㎡/h

38.25㎡/h

Quality

19.1㎡/h

28.65㎡/h

High quality

12.7㎡/h

19㎡/h

Resolution

600DPI, 900DPI,1200DPI, 1800DPI

Power Supply

50/60Hz, 220-240V 5KW

Working temperature

16℃-30℃(62℉-86℉)

RIP software

SAI flexi print

Working humidity

40%-60%

Printer size

4175*2165*1420mm,1500KG

Packing size

4450*2250*1560mm, 2250KG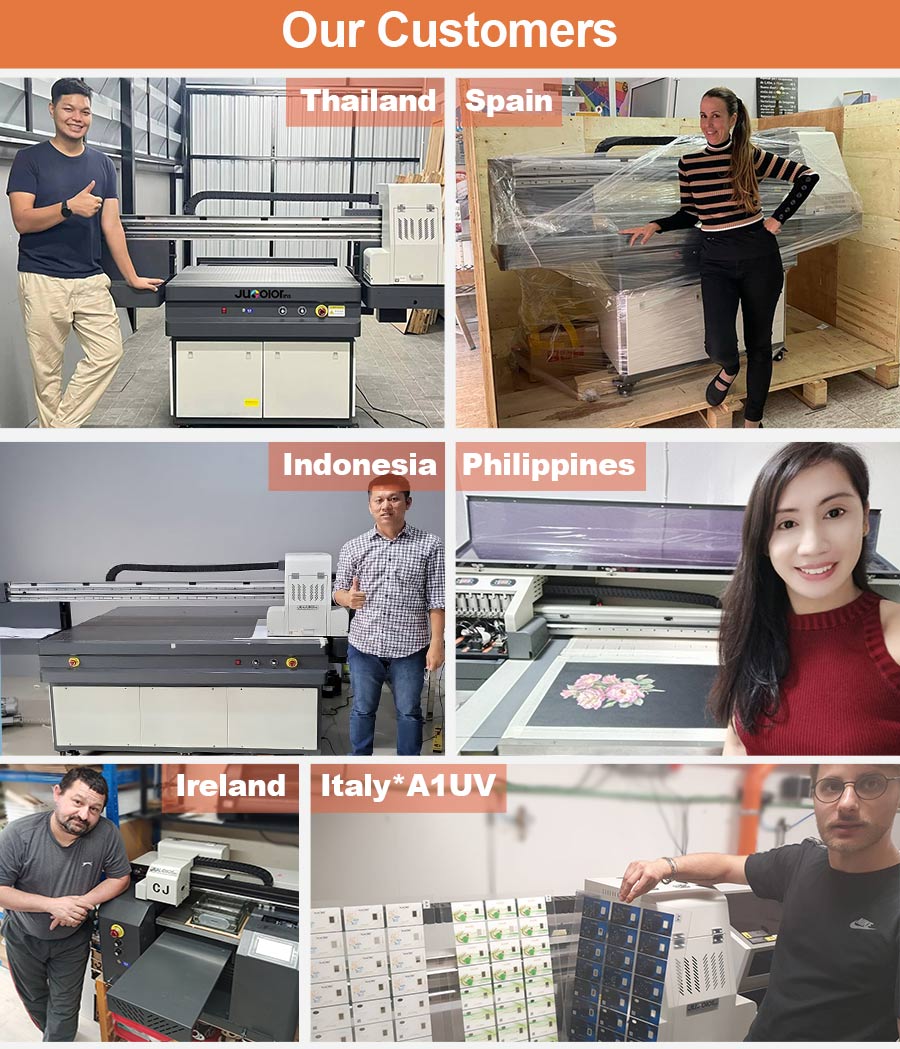 * Ensure printer longer stable, high quality printing out
* Support cmyk/cmyk,lc,lm+white+Varnish inks printing one pass, 3D embossed effect printing varnish glossy effect printing
* 15 mm high droplet printing
* support 4/8 pcs print heads for fast speed printing,

Layout of print heads
* Using Japan's Ricoh Gen6 all-metal industry print head, Ricoh Gen6 print head adopts an all-steel structure, which is extremely.
* corrosive, long working life, can be more than 3 years, high stability, greatly reduces maintenance time and cost.
* 5.0pl , the variable drop technology enables excellent print output quality.
According to customers' needs, Jucolor 2513 uv printers can support up to 8 pcs print heads.

led-uv curing lamp
Using high-performance lamp bead water-cooled curing lamp, the light source is environmentally friendly and pollution-free, inline with UL standards, the lamp bead life is about 40,000 hours, the light source temperature is low, and it can adapt to more temperature-sensitive materials.

Magnetic levitation linear motor
* Jucolor 2513 Gen6 print head printer adopts linear motor, reliable and long life, fast printing speed, simple structure, accurate ink point position, high positioning accuracy, easy maintenance, low printing noise, fast response speed, long running time without wear.
* Compared with transmission belt drive, printing speed of the linear motor is increased by 20%-25%, which greatly meets the customer's requirements for printing speed. * Low noise effectively alleviate noise in working environment, reliable and long life can effectively reduce replacement cost.

4 pcs printing heads - printing speed

8 pcs printing heads - printing speed
This is the printing speed of our 4pcs printing head and 8pcs printing head in the four modes of the printing software.

Circulation System
The Circulation System can limit the settlement of white ink, Avoid print heads blocked by inks sedimentation, thus greatly prolonging the service life of the print head.

The all-metal secondary ink cartridge
Excellent corrosion resistance. UV ink is corrosive chemical liquid. so corrosion resistance of secondary ink cartridge is very important, which can effectively prolong working life. Avoid high failure rate and high maintenance rate.

Hard oxide adsorption platform with automatic positioning function.
Jucolor 2513 printers use Hard-oxidized honeycomb-hole sub-chamber adsorption platform has strong adsorption capacity, which can
effectively absorb printing material during printing process, prevent printing material from shifting, effectively ensure
high-precision printing output, avoid print heads scraping caused by material warping. Damage problem, adsorption area can be
adjusted at will, platform surface has high hardness, scratch resistance, corrosion resistance, easy to clean.
Pin Position System
Easy to alignment of substrate quick loading, facilitate users to quickly find printing position and allow customers to quickly place materials.
Auto Thickness Sensor
Pin sensor to measure thickness upto 15cm/5.9inch

Four wind zone design
With this design, The area that needs suction can be opened at will, and the application is more flexible
Adopt a new four-pipe process, simplify the pipeline, and the suction force is not reduced.

Automatic height measuring system
Automatically detect the suitable printing distance between the nozzle and the printing material. Accurate, efficient, convenient and fast, effectively avoid problems such as ink flying and blurred printing quality caused by incorrect printing height, ensure high-quality print output, effectively support bidirectional high-speed printing

automatic collision avoidance system
Jucolor 2513 uv printer equipped anti-collision system for print head. This anti-collision system sensors are equipped on both sides of printing system. When safety of print heads are threatened, this system will stop printing directly, effectively protecting print head from being damaged.

Y-axis dual servo motor drive
For Y axis, we use dual motor drive. Compared with single motor, dual motor has a simpler structure,running directly, no need belt, avoids the poor accuracy of belt drive, the failure rate is high, drive more accurate, and failure rate is lower.

Variable Sized Droplet Technology
The ink drop size can be well controlled, making the printed pattern transition more natural, making the printing effect outstanding.


Printer ink
We will provide custo mers with our company-specific ink, and we do not recommend customers to buy other brands of ink, because the ink quality of each brand is different, it may cause damage to the machine, and it is not easy to use for a long time.