Do you use uv flatbed printer for bottle printing? Are you tired of the slow printing speed? Do you need a bottle printer for more than 200 pcs cans printing per day? Do you want to get a high speed cylinder printer for high production to meet commercial printing?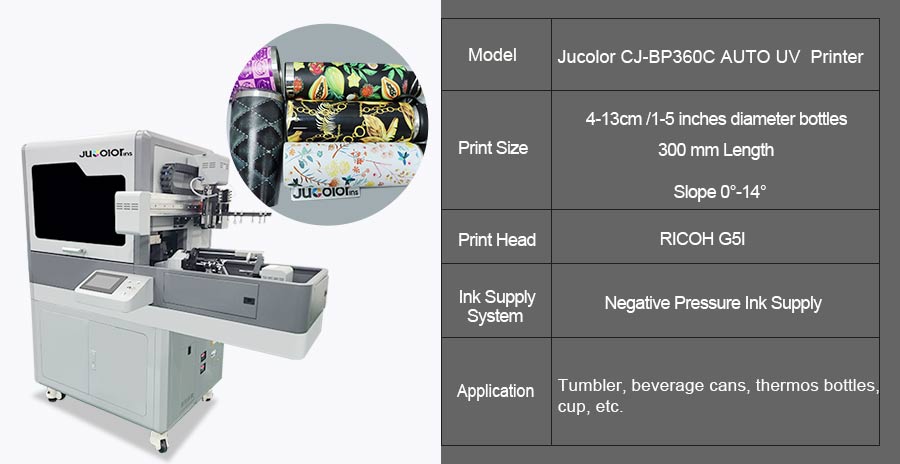 Jucolor CJ-BP360A is a high-speed cylindrical inkjet printer that offers full-color 360° graphics, excellent print quality, and speed.
Ideal for manufacturers who need more flexibility in volume printing.
The UV cylindrical printer offers smooth, seamless graphics printing, CMYK, white, varnish printing together, support 3D embossed, glossy, shining printing effect.
You see in the video, only 40-60 seconds, we printed a cans with 360 degrees full picture
Other helpful information we will shared as below:
1.What's the printable bottles, acceptable diameter and length?
2.How to fix the bottles? Is it easy to operation?
3.How many hours can the printer work everyday?
4.What are the advantages of high-speed bottle printer?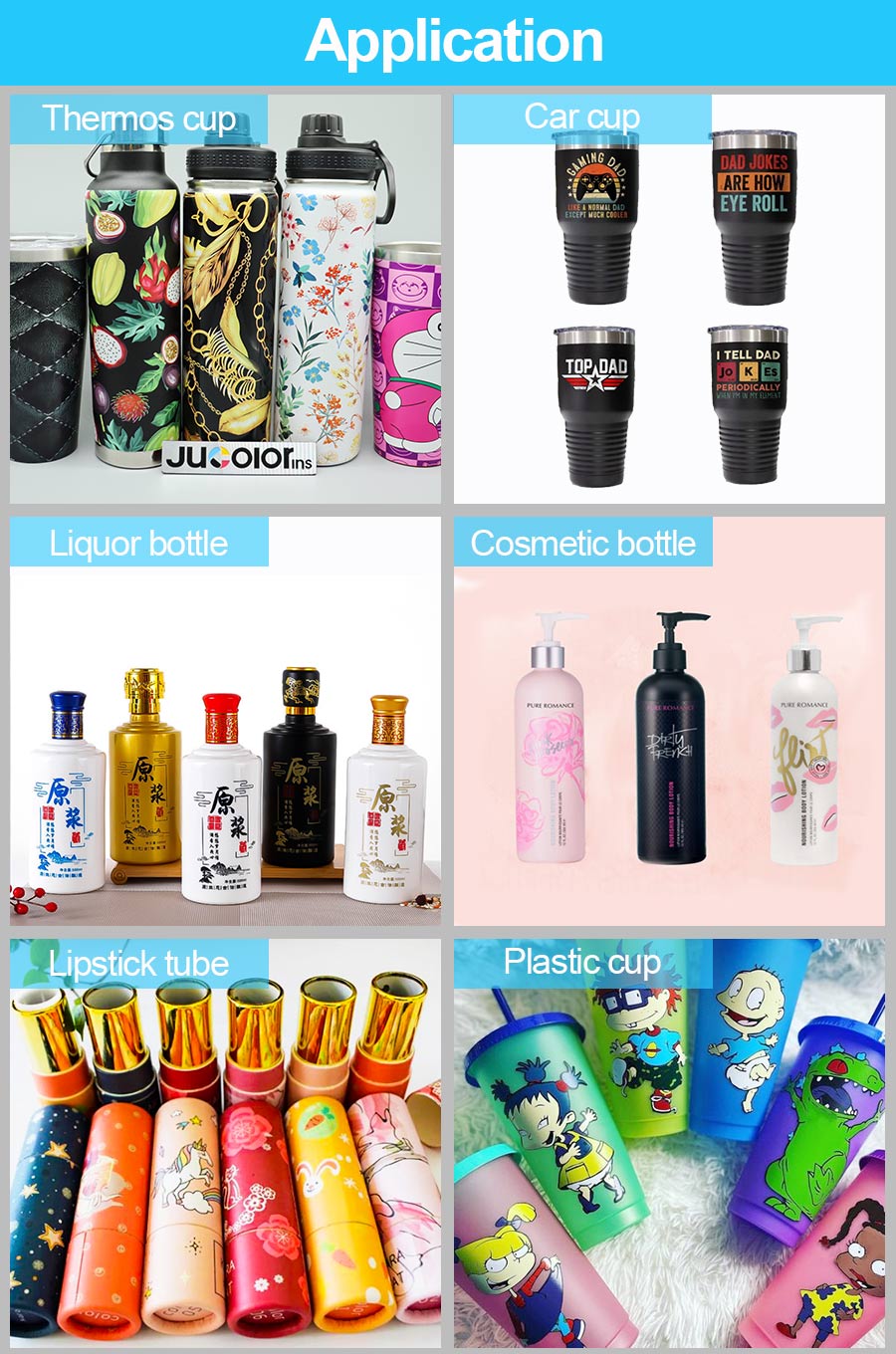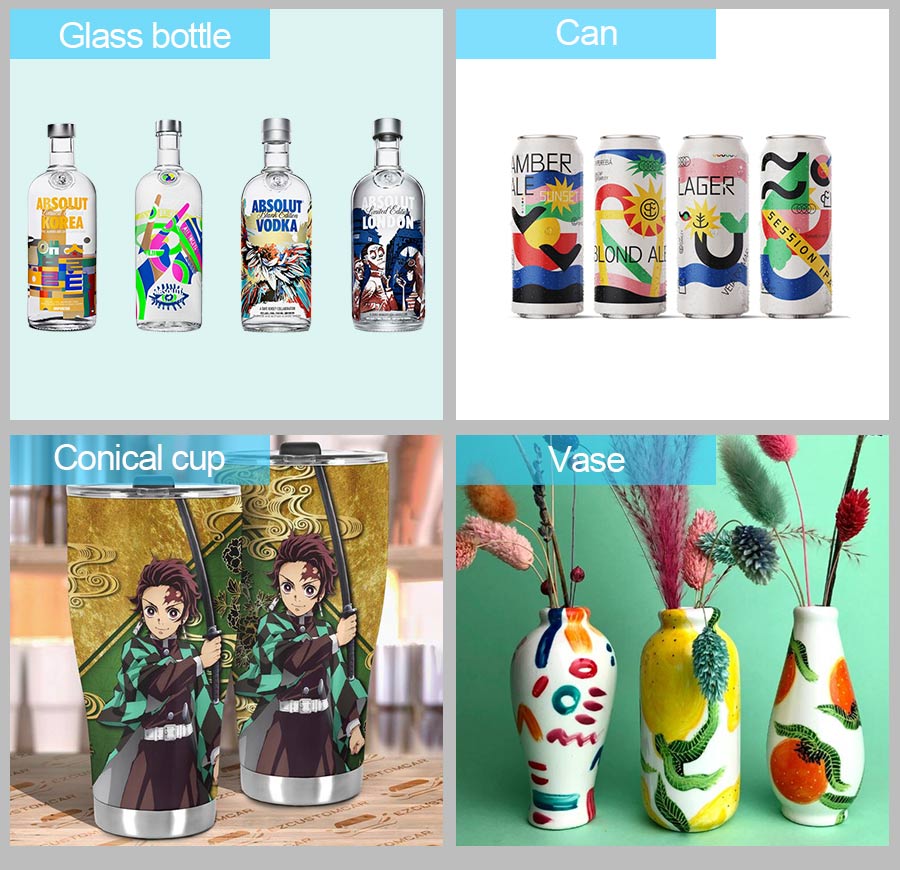 Check out the bottles printed by high speed bottle printer, both cylindrical & conical products can be printed. Diameter from 4-13 cm, length within 30 cm, the taper does not exceed 15 degrees. 
How to fix the bottles?
Two solutions: manually or robotic arm
A.The printer has a robotic arm(optional)
If you want to print cylindrical bottles, and has hundred or thousand bottles printing order with same picture, the automatic bottle feeding and collecting system will be useful.
B.Manually operation:
Please look at the professional bottle fixing fixture unit, the printer standard has 6 sets rubber trays, choose the suitable one according to size of bottles, it's fixed by screws.
Next, place bottles and click clamp buttons, the bottle will be clamped by trays.
If printing the conical bottle only needs to adjust the angle of the whole bottle fixture unit.
It's easy to operate, our new design quickly exchange different size bottle printing, quick auto-release latches, reduce bottle fix and release time.
How many hours can the printer work everyday?
If you want, the printer can print 24 hours everyday.
What are the advantages of high-speed bottle printer?
High production, low cost.
Production can reach 30-60 pieces/hour, 10 times faster speed than uv flatbed printer.
Watch the video of bottle printing, only uv ink cost druing printing, the ink cost for a bottle printing just $0.03.
No pollution
No need for plate making cost
You can print for one bottle personalized printing business; also can get mass printing tasks, printing hundred or thousand bottles big order. The robotic arm helps a lot.
Led control panel and buttons, easy to operate.
Plus, a new mist collection system combines with advanced negative pressure ink supply system to decrease cleanings and maintenance
---
Post time: Mar-22-2023