As we know there are many printers in the open market with different prices, HOW to choose the right one?
The following points are of concern to many customers: brand, type, quality, head configuration, printable materials, support and warranty guarantee.
1.Brand:
Normally uv printer brand from Japan and America is well-known, mature technology and stable system, but the price is too expensive.
Chinese printer market is very big, with different prices and quality, and more cost-effective.
2.Type of UV Printer:
Modified printer, professional uv printer. Modified printer is modified from broken EPSON office printer, very cheap price and small size.
But the disadvantages are obvious, poor machine is too unstable to work for business.
There are a sea of sensors, always ink error and paper jam. And cleaning unit is made by plastic, not suitable for corrosive uv ink.
Professional uv printer adopts professional printing control system, high development and manufacturing cost, so the price is matched, can provide you with stable printing system.
3.Printer quality:
There are many determinants of printer quality. If necessary, we will introduce it next time.
If you want to know more information, welcome send inquiry to us.
4.Head configurations:
UV Printer has different head configurations, it is related to print quality and maintenance cost.The amount of print heads will affect print speed, different print head has different print quality.
For uv printer, besides the common Epson model, there are Ricoh, Kyocera, Konica and other brand heads for your choice.
*EPSON print head features are cost-effective, sufficient supply, mainly used for uv printer with low price. Meanwhile, short lifespan, more maintenance cost and time are the disadvantages.
*Ricoh print head is mainly for industrial large format printer, Gen5, Gen6 and other models, long lifespan, less maintenance. But high price, need specific expensive mainboard to match Ricoh head.
*Kyocera print head is one of the best performing print heads in the world. Best print quality, working attitude. Generally, top industrial uv printers use Kyocera printheads.
5.Printing demands:
UV Printer has high commercial value, various applications. Such as phone case, suitcase, ceramic, glass, acrylic,bottle, mug, tumbler, braille these flat materials, curved materials we also have printing solutions, welcome to send inquiry.
Different customers have different printing demands, our printer has different printing model, fast speed printing, production printing, high drop distance printing, etc.
Choose machine according to your needs (meet printing size, speed, quality, print head configuration)
The last not at least point, the most important point: good after-sale service.
After-sales service can't be measured by price, but maintenance costs (time, money) need to be considered, if after-sales service isn't guaranteed, then the printer will become useless and waste your money and time, which is a headache matter.
UV Printer is a technical machine. As long as there is systematic training and professional guidance, the operation is simple. One-to-one after-sales service is a guarantee for customers to ensure that the printer can work stable and bring you good benefits.
The above points are the first things to consider when choosing a UV printer.
Shanghai Colorjet Industrial Co., Ltd. is a manufacturer for uv printers, we sincerely recommend that you choose the right printer according to your printing demands and budget.
Price is not the most important determinant, the right one is the best.
Wish the above content can help you, welcome to contact us to discuss more about UV printers,Chat now.
Read More:
If you use the uv printing machine for home business printing, we recommend A3 size uv printer with single dx7 print heads
1.Because, home business printing does not have a much bigger amount of printing needs, A3 size is enough.
2.DX7 print head lifespan is longer than other EPSON print head and less maintenance, which can reduce printing cost and maintenance cost.
3.Home business printing need a compact design uv printer, small size, small footprint, easy access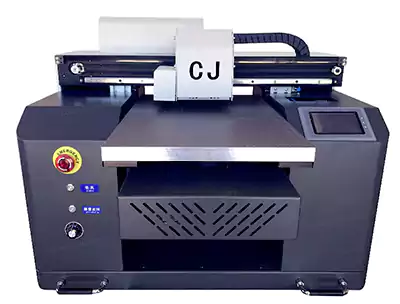 If you are new to uv printing business, we recommend our A2 size uv printer with 3 pcs print heads, one pass printing CMYK white and varnish uv inks, with 3d embossed and glossy effect printing result. it is not small or bigger, printing speed also much faster.Max printing size is 43*60cm, up to 25.6cm/10inch media printing ,suitable ball, suitcase, box custom uv printing.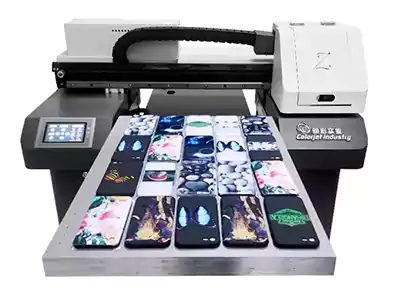 If you want less maintenance, high quality printing
*Our CJ-UV9012Pro and CJ-UV6090Pro industry uv printer best suitable you, which equipped with 4 pcs Ricoh G5I print heads,  White, CMYK, LC, LM, LK,LLK and Varnish inks, achieve photo level quality HD printing.
*Negative pressure ink supply system, more reliable , highly expend printhead lifespan.*14 mm max high droplet printing function, best for bump surface products uv printing, as toys, shoes, helmets, surfboards ect

---
Post time: Apr-15-2022